Tampering Detection
Keep your cameras and your organization in top shape
Many of today's cameras and video management systems have some kind of basic tampering detection functionality built in. This enables camera owners to receive alerts whenever the camera has been tampered with or when the image quality has deteriorated. However, in many cases, basic tampering detection is either not accurate enough or it cannot be customized to suit the specific environmental conditions. As a result, operators receive so many unwanted alerts that the tampering detection functionality becomes unpractical and is turned off altogether.
In this E-book, we explain what camera tampering detection is, why it is important to have and how our professional tampering detection solution differs from basic or pre-installed tamper detection.
In this eBook, you'll learn:
Why should your organization invest in camera tampering?
10 reasons to invest in a professional tampering detection solution.
What should a professional tampering detection solution be able to do?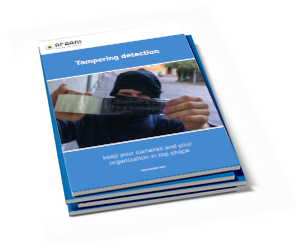 Download our eBook: Tampering Detection